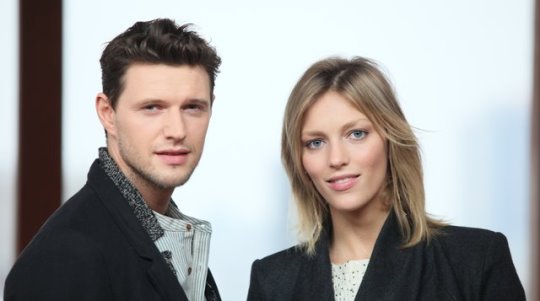 圖片來源:dziendobrytvn.plejada.pl

請點選上圖至官網觀看影片


tfs上有網友幫忙翻譯成英文
translated by moussy
D: Anja, you came to Poland yesterday and you didn't come to Poland for a show, either for a session, for sure you came to Poland to spend your Christmas time here and also with some other reasons?
A: Yes, I came here for a vernissage, related to the calendar, that i made with Lucyna Szymańska and Marcin Tyszka and it was a fantastic project because we dreamed with Lucyna to made it for many many years but it never worked out.
D: And what is the calendar about?
A: It's me and Sasha on the beach, very feminine, sensual, fantastic project, beautiful photos.
D: There are also Mateuesz Jemioł's clothes, right? And what it is about?
A: Yes, I mean no, It was about a bit of me, a bit of Sasha and a bit of clothes. It was a fantastic project, we were working with an amazing team and with people I know for many many years, so it was even hard to call it as a job.
D: I understand that Mateusz Jemioł is not a very known designer, I understand that you are trying to promote him?
A: Yes. It's a boy who has a huge talent and here in Poland it's very hard to show up for young designers.
I help him as much as I can, always when I'm here I wear.. Oh it's me there on TV with him, I'm seeing his clothes.
D: So, you said it was a project that you were doing together with Sasha and it's not your first project with Sasha, because in NY your first project with him was GAP campaign, then you first worked together, and I have to ask you, because it often happens that when people are together, they are afraid of working together, and then they might broke up. Do you fear that?
A: No, rather no. I mean if we will break up, we can't plan it. Everything may happen, but no.. I don't think I fear that. It's very natural, we work together on photos, and it helps us, when, I'm working with Sasha, it's all very natural, when I'm working with a model I don't know, It will be always fake.
D: Sasha, let me ask you if you understand what we are talking about?
S: Yes.
D: How you met Anja?
S: On the photoshot, we worked together twice before we dated, then we met on the steet and i asked her if she would have a coffee with me. And it worked.
D: So you live together?
S: Yes, in Anja's apartament.
D: But in your jobs, you travel a lot, how you spend your time together?
S: We spend a lot of time together, we also travel together.
A: When I'm not at home a bit longer more than one week, I try to come to Sasha. It's always nice, because our work always change on vacations.
D: Tell me, if you ever had that habit to come to Poland, to your parents on Christmas and New Year's?
A: Yes on Christmas yes, but on New Year's we are travelling to Alps, to ski a bit.
D: So you and Sasha are spending Christmas together?
A: Yes.
D: Those are the first Christmas Sasha's in Poland?
A: Second.
D: Do you like it here, Sasha?
S: Yes, I like it very much.
D: What is your favorite dish?
S: Anja's mother bigos.
A: Yes, that's from my mom.
D: What you both wish on Christmas?
A: A lot of courage, we have a lot of work in 2010, so we need it.
We need a lot of courage and of course Love.